The Electronic Travel Authority of New Zealand is a prominent and well-known electronic visa waiver. The committee was launched in the month of August in 2019. The travellers who are eligible as per the parameters can now easily get their visa for New Zealand ETA to visit this wonderful nation.
From 1 October 2019, it is requisite for the residents of different nations (i.e. 60 visa waiver countries) along with all the travellers that travel through cruise to carry a valid ETA Visa if they want to travel New Zealand. The entire available cruise lines, as well as airlines' members also need to have a valid ETA if they are planning to visit New Zealand.
All the locals from those eligible nations can get their ETA Visa just by going online and submitting a simple and short application form. This process is quite simple and very less time taking. They don't need to visit the embassy/consulate for the procedure. The online application form filling is just a matter of a few minutes. Generally, it takes just one day to process an application but, in some cases, this can further extend to 2-3 days.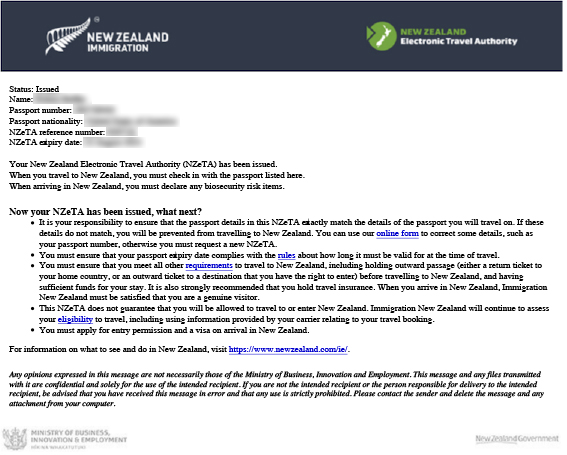 After the approval of NZETA, the proposed Visa has sent to the applicant via email. The approved visa remains valid for 2 years. It can be used for multiple visits to the country. It is required by the candidate to pay a minimal processing fee as well as a tourist tax. IVL (International Visitor Conservation and Tourism Levy) provides the vis to the tourists who want to visit New Zealand.
International Visitor Conservation and Tourism Levy is a government entity that has been proposed for the tourists. It looks after and protects the natural environment along with tourism infrastructure.
While submitting an online application form, an applicant requires to answer several questions that are asked followed by the personal information (i.e. full name, contact details, residential address, permanent address, DOB, passport details, nationality, planning of travel etc.) A separate section in the form that is related to health and security is also available.
Why ETA is required while visiting New Zealand?
Residents of several nations can visit New Zealand without having a valid Visa for 3 months. Whereas, the duration for the same for UK locals is of a whopping 180 days. The Australians holds the residency status to visit New Zealand.
As per new rules, from October 1, 2019, the residents of 60 visa waiver nations who have valid Visa need to apply for NZeTA necessarily prior to their visit to New Zealand. The total validity eTA holds are of 24 months.These are the 60 nations whose residents require valid NZeTA to visit there. these are -
All european union citizens including
Other countries that come under the list include
Andorra
Argentina
Bahrain
Brazil
Brunei
Canada
Chile
Hong Kong
Israel
Iceland
Japan
Kuwait
Liechtenstein
Macau
Malaysia
Mauritius
Mexico
Monaco
Norway
Oman
Qatar
San Marino
Saudi Arabia
Singapore
United States
Transit visa waiver countries
Bahamas
Bermuda
Bolivia
Colombia
Costa Rica
Ecuador
Indonesia
Kiribati
Micronesia
Marshall Islands
Nauru
Palau
Panama
Papua New Guinea
Paraguay
Peru
Philippines
Solomon Islands
Samoa
thailand
Tonga
Tuvalu
Vanuatu
Venezuela
The Further Specifications for NZeTA
All the crew members including airlines and cruise lines of any nationality are required to fill an application form to get valid NZeTA prior to travelling beautiful New Zealand. This document will be valid for five years.
The government of New Zealand provides an exemption to Australian citizens to get ETA. The residents of Australia having other nationalities require to apply for a valid visa but they don't need to pay tourist levy.
The further exemptions provided by New Zealand eTA visa waiver comprise of following points-
- Passengers as well as crew members of cruise
- Cargo ship crew members
- NZ Government's guests and delegates
- The Antarctic Treaty Foreign citizen travellers
New Zealand is a beautiful country with amazing natural scenic beauties. It is one of the most preferred tourist destinations of the world. Serval movies and TV series has been shot here. One can visit this amazing place and for this it requires to have a valid tourist visa.
A valid eTA VISA is all required to go and visit New Zealand. The process to obtain this document is quite easy but practical. All the applicants that requires to obtain this, will have to fill an online application form. Provide all the mandatory details there and you will get your application approved in 1-3 days.
A valid ETA Visa is requiring ton show to border authorities before entering New Zealand. They screen every visitor before letting them enter. The process comes under the security check.